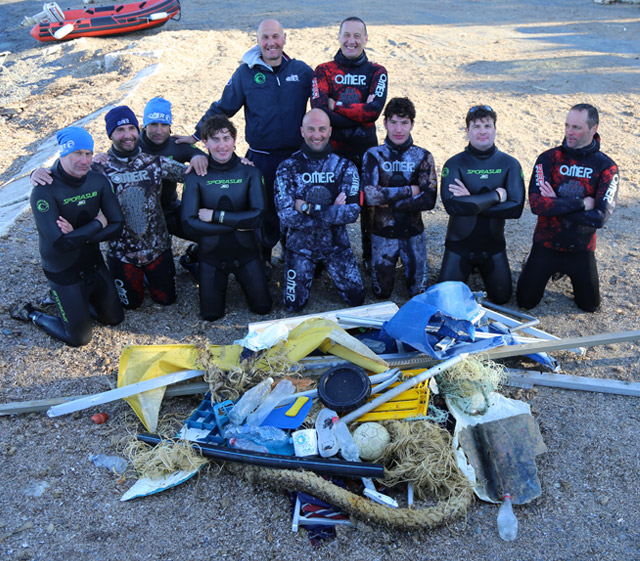 An # for a cleaning mission
The hashtag summarises the entire project in a simple and effective manner. We wanted a name to transform the idea into an action, and then into a concrete reaction, with your help. This is how #omeragainstplastic was born
It all started on the Island of Elba at the annual athlete's rally where we caught more than 135 kg of plastic and metal. Many of the athletes then continued to fish for plastic (in addition to fish, of course). Someone proudly attached the logo of what we like to call the "cleaning mission" on cars and vans. Our #omergainstplastic brand has become a healthy virus that turns into new objects and new ideas. In Omer, for example, we have converted some of our daily actions such as drinking coffee in the office in a green ritual, making ceramic cups and eliminating the disposable plastic ones. We have a notice board that guides us and advises us on how to change our habits. Polluting less is a new way of respecting others.We know that we are only at the beginning. But we also know that we have created a new beginning. A clean sea means more fish. More fish means more fishing. So what are you waiting for?
Join the "cleaning mission" and post your photos and videos with the hashtag #omeragainstplastic
A card board face. Recycled
For Omer, packaging is not just a container, but an extension of the brand, which we consider to be extremely important. Packaging is the final stage of the entire production process. It is the way people see us, sometimes the reason why they choose us (especially when they don't know us), but also our first contact with you. Packaging is how our products arrive in your hands.
That's why we decided to change. Our commitment to the environment also passes through here. We started with the line of new masks, to continue with a knife and a multiprong. These products represent only the first step in what we call the "Omer New Green Age." It will be a gradual, but steady process, and of course, an irreversible one.
Research says that 66% of today's consumers care about the packaging, in addition to the content. Of these, 51% of millennials check the packaging for green friendly messages *. We had no choice but to react and meet the needs of today's freedivers and of course, those of tomorrow.
*Source: Nielsen.com